Batteries pour
FPV Racing | FPV Freestyle | FPV Long Range

Histoire
Ovonic est une marque de batterie (lipo) pour FPV Racer | Freestyle émergente et digne de confiance qui est largement populaire actuellement dans la communauté RC FPV. Après avoir tester les batteries, les amateurs de RC seraient surpris de leurs hautes performances et les prix attractifs. Les consommateurs RC d'Ovonic serait une marque leader dans les batteries Lipo FPV. Les produits sont donc garantis avec une qualité et une sécurité qui valent la peine d'être utilisées.
Les lipos
Ovonic

pour FPV Racing

La batterie lipo Ovonic 4S voir Les 6S pour pro est la plus couramment utilisée dans les drones FPV, les courses de drones, les hexacoptères, etc. Les batteries lipo Ovonic 14.8V 4S sont disponibles à partir de 1300mAh et possèdent des connecteurs XT60  pour s'adapter facilement à vos Quad FPV et autres appareils.
Batterie/LIPO la plus vendu
OVONIC Batterie FPV LiPo 14.8 V 1550 mAh 100C 4S 192g avec connecteur XT60 (JST-XH) pour FPV Racing RC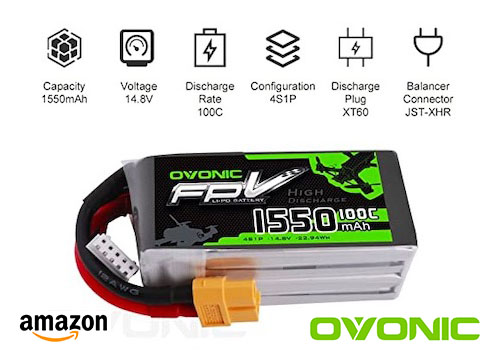 ---
Ovonic Lipo batteries on Amazon.Fr : Amazon
Ovonic Lipo batteries on Ampow EU: www.ampow.com/ovonic-batteries.html
Official Website: www.ovonicstore.com/
Ovonic on Facebook: www.facebook.com/Ovonicofficial
Ovonic on Twitter: twitter.com/Ovonicofficial
Ovonic on Instagram: www.instagram.com/ovonicofficial/
Want to be influencers or sponsored? Please contact us at ovonic.marketing@gmail.com.
---
https://www.instagram.com/p/B7S0l4tnIIu/
https://www.instagram.com/p/B9MtSZbnSmz/
Vidéo :
Ovonic

Lipo Review

by sᴛᴀᴄᴇʏ ABSHIRE
Blog Ovonic
Lipo Battery Maintenance: Understand In A Glance [Infographic]
Page Facebook
https://www.facebook.com/Ovonicofficial/photos/pcb.2499151920194846/2499132493530122/?type=3&theater
Our EU Spring Sales give our customer a great deal to buy what they want ,and
If you want to ship to US or CA ,You can also choose to go :
If you want to ship to AU,SG,RU,IN,UA ,,,,You can also get massive discount from our ovonicshop:
Publicité